Plumbers specialize in installing potable water and sewage systems. They can also work on drainage systems. Plumbing is a challenging career path and one that requires a high level of skill. If you're interested in becoming a plumber, there are several factors that you need to consider. This article outlines the job duties, education requirements, and salary for plumbers.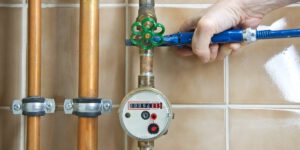 A plumber's job duties are varied and may include installing and repairing plumbing systems. They can also supervise other workers in construction projects. Plumbers must be highly skilled in plumbing techniques and have good business and customer relations skills. They are also required to be physically fit in order to lift heavy pipes. As a result, plumbing technicians are often on-call at all times.
Plumbing technicians use hand and power tools to make and measure pipes and other materials. They must also study blueprints to determine the needs of different plumbing systems. They also perform scheduled maintenance and repair broken pipes. In addition, plumbers must use pressure gauges to detect leaks. They are expected to be knowledgeable about building codes and ensure that every installation meets the needs of the client.
Plumbers can work for either a private practice or for a company. In the private sector, plumbers usually work on residential homes. They tend to serve multiple homes each day. Commercial plumbers, on the other hand, work in factories and other businesses. They also tend to do more complex plumbing systems and waste management tasks.
As a plumber, you'll be repairing various household appliances and installing new ones. You'll be using hand and power tools for the job, as well as specialized equipment. You'll be working in cramped conditions, using your hands to repair plumbing systems. You'll also need to be team-oriented and have excellent communication skills. It's important to be aware of new techniques and technologies in plumbing, so you'll be able to respond to the needs of your customers.
In most states, plumbers must be licensed to practice their profession. This license requires them to have at least two years of experience and pass an exam. In addition, plumbers must have excellent listening skills, as these skills allow them to understand the problems of their customers and make appropriate repairs. They can also work overtime, as they may be needed on a regular basis.
In addition to plumbing, plumbers can also perform electrical work. If you're interested in getting a career as a plumber, you can consider becoming a Maintenance Plumber. Maintenance plumbers install, repair, and maintain plumbing systems and perform other plumbing-related duties as needed. This position requires extensive knowledge of plumbing, electricity, and building trades. As a Journeyman Plumbing Technician, you'll be responsible for installing pipes and fixtures. You'll also inspect the work site, locate underground piping, and follow blueprints or sketches. Plumbing Technicians can also use hand tools common in construction.
Apprentice plumbers typically work under the supervision of a more experienced tradesman. They can perform many of the same tasks as a veteran plumber but will work on less complicated jobs. Apprentice plumbers are generally required to have a high school diploma or GED. Some employers may also prefer applicants with training from trade schools and experience. Apprentice plumbers learn their trade through hands-on training and homework.
The educational requirements to become a plumber vary by state. Typically, the state will require at least two years of experience in the field and a high school diploma or GED. After completing your training, you will need to pass a licensing exam. In some states, you will also need to get a separate license for gas lines. Once you have your license, you can work independently or with supervision.
The state has strict requirements for becoming a plumber. For example, an apprentice plumber must be 18 years of age, have a high school diploma, and have two years of work experience. Apprentices must also be fluent in English. In addition, the apprenticeship program is usually paid, and you can start earning immediately.
A plumber's job requires constant attention to detail and a strong work ethic. They must be able to work in both indoor and outdoor environments. Often, they are required to lift heavy pipes and are exposed to a variety of hazardous conditions. Plumbing is a dirty and dangerous job, and they often work in tight quarters with electrical work.
Although a plumber does not need a college degree to become a plumber, it is highly recommended that he or she complete a technical training program to ensure that he or she is fully qualified to enter the profession. Plumbing requires a thorough knowledge of mathematics, and it is important to be familiar with algebra, geometry, and thermodynamics.